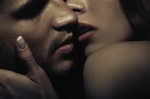 Q: I'm 48 years old and happily married to a wonderful man for 17 years. Our kids are in their teens leaving us more free time to spend together. Problem is that for the most part all the romance is gone from our sex. I get that when the kids were smaller we only had time for quickies, but now I'd like more than having him climb on top of me and do his thing. He's not very experienced since we started dating in our late teens. I've only ever been with one other man before my husband, so I don't know a lot about sex either, but I'm thinking there must be more. What can I do to help add some excitement back into our marriage?
A: First know that you're not alone. Many couples find themselves in a sexual rut when sex becomes routine due to busy lives. I have many suggestions, but let's start with a few.
Establish a weekly date night. When was your last official datet? Having time to put aside your daily cares and focus on each other is paramount to spicing up your romantic life. It doesn't have to be any place fancy; just someplace where you can enjoy each other's company and reflect on what you love about each other.
Go the extra mile with personal care. Remember the time you used to spend getting ready for a date in the early days? Spruce up a bit for your date night. Spend a little extra time on your hair. Treat yourself to a manicure and add a jazzy polish. Add some perfume to your bath. Trim your nose hairs. Spritz on a little perfume (note the operative word here is "little" – don't overwhelm your partner by bathing in scent). Let your partner know you've done this for him, which may subtly encourage him to reciprocate for future dates.
Communicate, communicate, communicate! Chat about a scene in one of the erotic romance novels out there. Or better yet, share one of your personal fantasies (start with something simple to open the door). My husband introduced me to our Double Diary as a way to share our love and fantasies, and we haven't looked back since. You can read all about starting a double diary along with a few excerpts in my erotic romance novel, Scorpio Awakens.
Above all, be patient. Change takes time. Use the time to education yourself about your sexual needs and desires. You'll find that the Ask Dan and Jennifer blog is a great resource.
That should be enough to get you started. Give one or all of these suggestions a try and let us know how it goes. Readers, do you have any other suggestions?
Feed your fantasies!