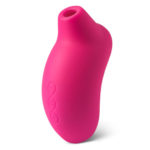 Dear Lilith – My husband dragged me to a sex shop to buy some toys to spice up our love life. The lady there talked to us about a clit vibrator. Have you heard of these? Are they any good? – Liking the old way
Well, hello there Oldie – I'm sorry to hear you felt dragged to the sex shop, and I encourage you to look at your next trip as an adventure. I love going to the smut shop with Hubster, if for no other reason that it leads to exciting conversation. Conversation that leads to sharing fantasies that leads to…well, you know. So, park your vanilla ideas at the door and explore. Ask questions, get messy.
However, that doesn't answer your question. So, yes, I'm well aware of clit vibrators. We found a lovely one at
Good for Her
…and best yet, it is on
sale ($100 off – sale ends early this year)
. This little beauty provides deep stimulation using a variety of eight different settings–everything from intermittent pulses to flat out vibration. And it's uber quiet for those who prefer to limit noise distraction–yes, I am talking about those lovers who like to hear her/his breath catch and still just before cresting the orgasm wave.
It doesn't directly contact the clitoris, so there's no discomfort there. I should advise that the wonderful woman who chatted us up about the benefits of the Lelo did advise that the orgasm can be delay and very strong. In some cases, she said she felt pleasant sensation but no building to orgasm and then…POW! Indeed, "POW" is an understatement…just saying!
It's waterproof and it's silicone … what more do you need? Check it out and let me know what you think.
As always, play safe and feed your fantasies!
Lilith
Use the comment box below to send me your Dear Lilith questions…